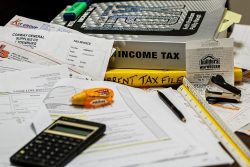 Do you have paperwork hiding in drawers, stuffed in your purse/handbag and generally taking over? You are not alone, despite doing so much online, most of us still have lots of paperwork in our homes. Here are my top tips to tackle your paperwork.
1 – Reduce
Where possible, move to electronic billing.
Keep the current document only. As you receive a new policy (e.g. Home or Car Insurance) dispose of the old policy.
Unsubscribe from marketing letters and this also applies to emails, as digital clutter is just as important.
2 – Review
Take time to go through your paperwork, 1 box or shelf at a time and decide on what you really need to keep.
Set up a place to keep your paperwork. This can be a simple expanding file or something like the Really Useful filing box. Both can easily be moved from one room to another.
Keep things in date order, so it is easier to find.
Set up files for key things, like utilities; financial; health and then add to them as you sort the paperwork.
I find my purse and handbag fill up with vouchers, membership cards etc, so I also have a mini file in my handbag to keep it all together and to stop my purse bursting at the seams. Don't forget to clear out those old receipts which have been lurking in there for a while!
3 – Rubbish
Dispose of the paperwork you don't need but make sure you take measures to protect your personal data.
A shredder is a good option but make sure it is cross cut which means it cuts into small pieces rather than strips, as this is more secure.
An alternative to shredding is using an Identity Roller which blocks out the text so it can then be recycled.
Once you have removed any personal details, recycle what you can.
As with all organising, focus on what you really want or need to keep and declutter the rest. Then put into categories and find the best way for you to store it. Then you get to enjoy the benefits of less stress and more time – your future self will thank you!
Louise Simpson is a Professional Organiser and Coach helping people reduce the feeling of overwhelm and get the time and space they need. She offers a range of support both virtually via Zoom and in Essex homes, to help with Organising, Decluttering and Productivity. You can find more about how she can help you improve your wellbeing here.
Here are some photos of the products I mention above that I use myself: