For many people, the Pandemic and the associated Lockdowns have resulted in their first experience of working from home and for most parents, the introduction of Home Schooling.
If you haven't done it before, it can feel overwhelming on how to make it work without feeling totally frazzled. So, here are my top tips on how to make it work better for you.
Have a daily routine: have some form of daily routine, such as getting up at a regular time, making time for lunch and have a finish time for your working day. It doesn't have to be strict but having some normality in your day, will help keep you focused. This can also help give you a sense of purpose and a reason to get out of bed in the morning when you know what is planned for the day.
Work area: have a defined workspace for each person who is working from home, whether that is an office in the spare room or the end of the kitchen table. Try to choose somewhere with natural light and ideally not facing a wall, as it helps to see the outside world still carrying on.
Reset: if you aren't lucky enough to have space for a separate office in your home to work from then the daily reset is really important. This is about putting away all your work or school related items at the end of the day, so your space is reset back to home. This gives the distinction between work and life, just like you would normally get when you leave the office. You can then start each day afresh rather than sitting looking at all the unfinished work whilst you are trying to switch off in the evening.
Take breaks: you might think you are too busy for breaks but they will boost your productivity. It gives your brain a chance to reset and often will allow you to find solutions to problems when you take time to step away from the screen. You are at your most productive, working in 45-minute chunks, so plan your day to allow breaks between different activities. Keep it simple, it could be a walk around the block; popping on your favourite music and busting out your dance moves whilst making a coffee or using the time to pop on your washing or tidy up the children's toys.
Stay connected:

this is especially important now as we can't meet up in person. Keep connected with colleagues, family & friends. Maybe hold a weekly Zoom call to catch up on those conversations you would normally have had over coffee. If you aren't used to working from home, it can feel quite lonely so staying connected will help your mental health.

You could even set up your own co-working session and arrange a video call with a colleague or for the children, classmate and talk as you complete your work to help feel more connected.
I was really pleased to connect with the folks over at Hotbox who sent me one of their storage boxes to test out on how they could help people get organised and they have just the products to help.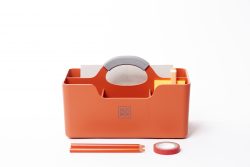 I tested the Hotbox 1 and they are such a great product for helping you to get organised.
Providing one place to keep all of your work or school books and a handy box ready to move to your work area each day and store away in the evening.
They look good (available in a variety of colours), so you don't have to hide it away when on Zoom calls.
It has separate compartments to stop everything just ending up in one pile in a box.
They can be recycled and the grey boxes are even made with recycled polypropylene.
When you do return to working in the office, it would look great on your desk and the cardboard box it arrives in can be used in a locker as a storage box.
The only challenge I have found with the product, is agreeing what it will be used for. I am using mine for working from home but when I am back in home with clients this will be great for storing all of my organising essentials like my label machine, recycling bags and stationery.
The children are already eyeing up their favourite colours on the website for a school Hotbox. My daughter also thought it would be great for all of her craft supplies and told me I should get one for all of my cleaning supplies. My son thinks he should have one for all his Gaming bits, like headphones and discs, so I think the Hotboxes may be multiplying!
Hotbox helps you organise your items at home or in the office, with smart storage hot boxes and backpacks that keep things neat, handy, and easy to move around. Hotbox creates versatile storage hot boxes, backpacks and accessories designed to keep your stuff tidy and organised. Whether you're at home or in the office, keep everything close to hand. You can find all their products here and there is even a range of accessories to go with them. I am pleased to say Hotbox are offering 20% off your order when you quote APDO20 at checkout during February.
Louise Simpson is a Professional Organiser and Coach helping people reduce the feeling of overwhelm and get the time and space they need. She offers a range of support both virtually via Zoom and in Essex homes, to help with Organising, Decluttering and Productivity. You can find more about how she can help you improve your wellbeing

here

.